Committed to combatting harassment and bullying in all its forms
https://english.univ-nantes.fr/medias/photo/vignette-ununie_1552660347001-jpg
Université de Nantes has adopted a comprehensive approach for preventing and combatting sexual harassment, moral or psychological bullying, sexism and discrimination.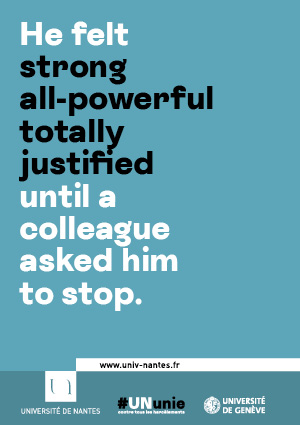 In March 2019, an internal advice and counselling unit for people who are being harassed or bullied or for those who have witnessed it was created. The unit is made up of volunteers, representative of the academic community, who have been trained to provide support for staff and students wishing to talk confidentially about a case of harassment or bullying.

An awareness-raising anti-harassment campaign aimed at staff and students was launched as well: #UNunie contre tous les harcèlements.

"Harassment and bullying is a major societal issue" says Olivier Laboux, President of the University of Nantes. "It was unthinkable that the University would not do anything to address this. By creating an advice and counselling unit and launching an awareness-raising campaign, we want to give everybody a chance to talk about this subject, which should no longer be a taboo. We must break the silence and solitude of those who may feel isolated".

This on-campus and online poster campaign has a powerful message aimed at anybody wanting to speak out and feel supported. It will help to develop awareness and over the next few months will enable the University to assess its own situation regarding all types of harassment and bullying.

The University of Nantes is the first French university to have adapted this campaign, developed by the University of Geneva and Université Libre de Bruxelles. In doing so, the University of Nantes is extending the work undertaken by these two establishments renowned for their pioneering work on an issue that is, unfortunately, far too common in today's society.
Spread the word
Help us raise awareness on
Twitter
and
Facebook
#UNunie
For more information (in French):
Mis à jour le 23 October 2019 - Laurent MUNIER.